How our homes shape our mental well-being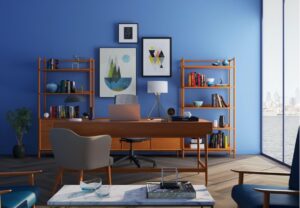 To some, a home is a safe haven. To others, it's a touchpoint in between segments of a fast-paced lifestyle and nothing more. Whether you spend the majority of your time at home or not, it will inevitably have some sort of impact on you. It can even affect your mental health. Learn how our homes shape our mental well-being and, sometimes, vice versa.
Choosing the Right Home Environment for You
Prioritizing mental well-being involves consciously selecting living environments that align with your needs. To do that, you need to get in touch with your emotions, behaviors, and overall mental wellness. Take note of how you have felt in previous home environments — whether that was in a house growing up, a dorm, or renting your first apartment. Think about the people you lived with, the area in which you lived, and how you felt when you were there. Often, it's tough to make an immediate connection between well-being and your living space but there are likely patterns you can spot.
Location
Where you lay down roots matters. The location of your home is more than just a geographical marker — it plays a significant role in your daily life and mental well-being. For instance, a long and stressful commute can negatively impact your mood and stress levels. Additionally, a neighborhood with green spaces and walkable areas can contribute to a sense of connection with nature, which is known to have positive effects on mental health.
In essence, you want to consider the following regarding the location of your home:
Access to green areas;

Crime rate;

Noise levels;

Proximity to key parts of your life;

Public amenities;

Walkability
Of course, everyone's priorities will vary. Yours can and likely will even change throughout your life. Try your best to determine what you value most in a location, especially if you'll be spending several years there.
Size
Priorities change and so does the amount of room you may need. The size of your home matters, but bigger isn't always better. While spacious living areas offer freedom of movement, they can also lead to a sense of isolation and detachment. On the other hand, a cozy and well-organized space can promote feelings of comfort and security.
Interior Design
The way you decorate your home and the spaces within it is unique to you. It's a chance for you to customize your environment to include all of the things that you find aesthetically pleasing and functional. You'll also have the opportunity to choose a design that has the potential to boost your mood every day.
When picking interior design for mental wellness, consider:
Sources of light: Natural sunlight can make a space feel brighter and more inviting, boosting your mood. Artificial lights should be warm to create a calmer, cozier atmosphere.
Aesthetic organization: Bookshelves, storage furniture, and decorative baskets can all be appealing to look at while providing a tidier space that is stress-free and open.
Colors: Color theory is nothing new, but it stands the test of time. The color of your paint, flooring, countertops, blankets, curtains, and more can influence your mood. For example, blue and green can create a soothing environment in your home.
Natural elements: You can bring the positive benefits of nature inside by adding water fixtures, plants, and earth tones to your interior design. In addition to cozy fabrics, you can add interest with natural stone, water, or wood while gaining the calming, mood-boosting benefit of nature.
Art: When adding art pieces to your walls, pay attention to how those pieces make you feel. Usually, artists are trying to evoke emotion through their work. Bringing that emotion into your home can obviously affect how you feel in that space.
These aren't hard and fast rules, but they are great starting points that work universally. To make sure you feel a sense of identity within your home, add personal touches like photos or accent pillows you love.
Lifestyle Needs
Your home should also seamlessly align with your lifestyle needs. If you thrive on a certain routine, consider a layout that supports your daily rituals. Having a routine is healthier for you, in general, so designing your home around that can have a positive impact on your life. In particular, routines that boost your mental health and can be bolstered by home design include:
Keep your bed a designated sleep haven by incorporating cozy lighting, sunrise alarm clocks, and comfy bedding.

Make space in your home for activities that relax you, such as meditation or baths.

If your kitchen is designed so that healthy foods are more accessible and fun to prepare, it's easier to make the right decisions at snack- and mealtime.

Incorporating a gym space into your home can make you more motivated to work out.
You should also look into accessibility accommodations like open spaces and grab bars if you have mobility or dexterity challenges.
Permanence
The question of renting versus owning a home is a financial consideration, but it also impacts your sense of stability and belonging. Owning a home provides several mental health benefits including a feeling of permanence and accomplishment that can contribute to a greater sense of security. However, renting offers flexibility, allowing you to easily adapt to new circumstances. Evaluate your priorities and choose the option that aligns with your long-term goals and mental well-being.
If you're making a major life change, you can use a move as an opportunity for personal growth. After outlining your priorities, you can rest assured that you know how to make the right decision with your new home. It's a psychological adjustment in and of itself to change living spaces. Make sure you're asking yourself what your goals are with this new residence. This can be anything from living a healthier lifestyle to fostering a sense of community.
How To Prioritize Your Mental Health at Home
It's crucial to prioritize mental wellness in all parts of life, and your home is no exception. After all, you spend countless hours there. In order to prioritize your mental health at home, remember to:
Establish routines and design around them;

Log your feelings with different home changes to notice patterns;

Set clear boundaries for work, play, and rest.
By intentionally choosing an environment that resonates with your values, supports your routines, and promotes positive emotions, you are taking a proactive step toward nurturing your mental health journey. As you embark on the path of self-care, remember that your home is not just a place to live, but a space to thrive for years to come.
Guest post by Luke Smith
Tags: behavioral health, clutter, crossroads health, home lifestyle, home organizing, homes mental health, homes mental well-being, mental health facility, mental health treatment, mental well-being, Mentor Ohio, self care, well being