How to improve mental wellness in your child's classroom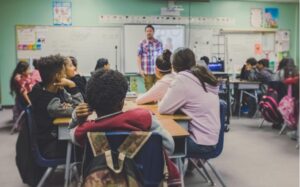 As a parent, working to improve your child's mental wellness in the classroom is a year-round job. There's no question that teachers have to deal with a lot of stress, and the things you do at home to boost your child's mental well-being can help to support those teachers – and your kids.
It's easy to assume that kids aren't stressed or struggling with mental issues, but that isn't always the case. Children can experience stress just as much as adults, especially when they're faced with overwhelming situations or difficult challenges.
So, what can you do to improve mental wellness in your child's classroom? How can you assist teachers in their stressful jobs and benefit everyone involved?
The State of Mental Health
If you consider what teachers, principals, and school administrative staff have been through in the last few years, it's no wonder they're experiencing extreme stress and burnout. They had to figure out how to teach throughout a pandemic, deal with extreme safety measures, and then eventually return to the classroom and establish some sense of normalcy. A 2022 study found that nearly three-fourths of teachers are experiencing job-related stress, and 59% say they're burned out.
These issues are even worse in underfunded and overcrowded classrooms. Research has shown that schools in "poor" areas have more students with mental health needs. When teachers work with those students on a daily basis without support, they can struggle with their mental wellness, too. They might not have the resources to reach out for professional help, and when they're dealing with an overcrowded classroom, they might not be able to give each individual student the attention they need.
These situations leave both children and teachers struggling with their mental state. There is only so much an administration can do if they're working with a tight budget and can't afford to hire anyone new or bring in professional resources. Thankfully, parents can step in to do their part and provide support in the classroom.
Helping at Home
Healthy mental wellness habits start at home. No matter your child's age, be sure to look out for common signs of stress, including:
Difficulty relaxing

Worrying

Anger or crying

Inability to control emotions

Clinginess
If your child is exhibiting any of these signs, don't hesitate to talk to them. Getting to the root cause of their stress will make a big difference, and when they know they have your support to help them work through it, they will be more likely to open up.
Even if you don't feel that your child is especially stressed, you can promote healthy habits at home that boost their mental health. Try establishing a routine each day with your child and stick to it as closely as possible. Routines provide comfort and stability, and everyone can benefit from that. Relaxing and fun activities can also boost your child's mental health – especially activities known to improve happiness, like exercise, volunteering, or spending more time outside.
Finally, make sure your home is a place where open communication happens regularly. Unfortunately, even in the 21st century, we're still dealing with plenty of stigma surrounding mental health and mental illnesses. By talking to your kids about the importance of mental health and creating an environment where they feel comfortable talking about it, they will be less likely to keep negative emotions inside.
Getting Involved in the Classroom
In addition to creating a positive environment at home, don't hesitate to get involved in your child's classroom. Start by mentally preparing yourself for working with kids, whether you're volunteering for a class party, field trip, or you're thinking about becoming a classroom assistant.
You can prepare yourself by taking care of your physical health with regular exercise. Stretching, light cardio, and squats can all be beneficial, especially when you're working with little ones and you'll have to move around all day.
Mentally, make sure you're willing to practice empathy and develop an understanding of how you respond to stress. Some days will be overwhelming, and it's important that you know how to keep your emotions in check when you're feeling the weight.
If you don't want to step into the classroom, yourself, you can help your child's teacher fight stress and burnout by offering your support as often as possible. Donate classroom supplies, volunteer to make snacks for special days, and don't hesitate to give your child's teacher gifts throughout the year. You don't need to wait for holidays or other special occasions. Everything from notebooks and stickers to mugs and homemade goodies can make a big difference in helping your child's teacher feel appreciated.
Improving mental wellness in your child's classroom starts at home, but it also requires support and communication. Keep these tips in mind to help out your child, their teacher, and yourself throughout the school year and beyond.
Guest post by Luke Smith
Tags: behavioral health, children's wellness, crossroads health, health services, improving mental wellness, lake county, mental health treatment, mental wellness, mental wellness children, self care, youth treatment