Ways to speak to your kids about mental illness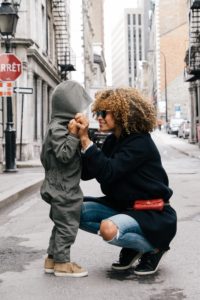 Mental illness has become a prominent issue in our country in 2020. As awareness has grown over the past decade, including famous athletes and celebrities opening up about their personal struggles, it has become important for our children to learn the facts about mental illness.  1 in 5 adults in America suffers from mental illness and 17% of youth (6-17 years old) experience a mental health disorder.
With as much awareness as there is of mental health issues, there is still a major stigma. There is still a major belief that if someone is suffering from depression, anxiety or any other disorder, that they are unstable and can not live a normal life. How can we begin to break that stigma? We can teach our younger generations the truth about mental disorders and how it is very possible to live a great life while dealing with it.
It's a great experience getting to show your young children everything life has to offer and all the great things in the world. It is also imperative to show them the dark realities of life which can be difficult but a necessity. Topics like mental illness, drug addiction or suffering from alcoholism are things that kids should know about. It's up to the parents to decide the appropriate age to present these realities.
Even if your children don't suffer from any mental illness personally, it is inevitable that they will someday know someone who is, being educated on the topic can be a major benefit to them.
Do Your Research
There are many opinions out in the world about mental illness, we all have our own as well. It is important before you have a talk with your kids to do the right research before presenting anything to your kids. There is plenty of information out on the internet on the topics, just make sure it is a reliable source. Some great resources include:
SAMSHA (Substance Abuse and Mental Health Services Administration)
NAMI (National Alliance on Mental Illness)
AACAP(American Academy of Child & Adolescent Psychiatry)
Distinguish the difference between fact and fiction while organizing what you want to tell your kids. Naturally, your children will have many questions, just make sure you give them surface-level responses and keep the conversation from going too deep or upsetting.
Mental illness is a very complex topic, there is so much to be learned that it can become overwhelming. Remember, you're not trying to obtain a Ph.D. in mental health, you just want to be armed with the facts for your conversation.
Having The Talk
It is up to parents when a good age or time is to talk to your kids. Some kids mature faster than others and can process the information at a younger age. There are a few things to keep in mind when approaching your conversation with your children.
Make sure the information is simple and easy for them to understand
Watch out for their reaction, body language can help you navigate through the conversation to make sure it goes well
Gauge the mood that your child is in that day, begin the discussion when it is clear they are having a good day and in good spirits
Assure them they can always come to you if they have questions or want to talk about it more
After having the initial talk, you have now opened up a completely new avenue with your child to talk about all things about mental health. There is no formula of when to bring it up again with them or what to talk about next. It all depends on where that first conversation goes.
These guidelines are general directions to take, every child is unique in their own way and their traits and personalities should allow you as a parent to direct the way you approach them about mental health. The most important thing is to treat the conversation with love and care. Make sure your child knows they can come to you about absolutely anything, especially if they are feeling down or different than their peers.
It's time to eliminate the stigma of mental health, it keeps people from seeking help and admitting they are suffering. Among the many ways we can do this, one of the most important is teaching our future generations that just because you are suffering from something like depression, you can still live an amazing life.
Guest post: Daniel is a writer in recovery from South Florida, he truly believes anyone can get sober provided they are ready to take action.
Tags: adolescents, behavioral health, Crossroads of Lake County, health services, kids mental health, kids mental illness, lake county mental health, mental health, mental health cleveland, mental health lake county, mental health services