Coping with the Transition from Inpatient to Outpatient Treatment and Individual Therapy
How to deal with transitions for treatment and therapy
Asking for help and taking the first steps on the road to recovery can be terrifying. Most of us have spent years coping with life by putting various substances in our bodies and the thought of staying sober seems impossible.
When I finally reached out for help and went to an inpatient treatment center, it was like breathing fresh air for the first time. I felt safe. I was surrounded by people who understood the way I felt and also wanted to be sober. I spent three months in inpatient treatment before transitioning to a halfway house and starting outpatient treatment. I had become so comfortable and acclimated to inpatient treatment, that the transition to a halfway house was even scarier than going to treatment in the first place.
I was petrified that I wouldn't be able to stay sober on my own. I remember sitting in my therapists office the morning before I stepped down to outpatient treatment and telling her that I needed to stay in inpatient longer because I had no idea what to do living on my own. She confidently disagreed. She said I had learned the tools I needed to be discharged, I would just have to take action and apply them. This meant there was nobody to tell me when it was time to go to group, what meeting I needed to attend that night, when to go to the store, and when to go to sleep at night. I didn't have a car, I didn't have any money, and I was in an unfamiliar town in South Florida.
Reality set in when I was dropped off at my halfway house. I had no idea what to expect. The first person I met was my house mom. To my surprise, she was friendly and accomodating. She made sure I had everything I needed, she helped me unpack my things, and she even offered me a ride to outpatient group that evening.
My outpatient group was in the same building that many of my individual therapy sessions were held with my therapist. Knowing that I could return to this safe place and receive care and guidance was reassuring to me.
At my first outpatient group, I used the tools I learned in group therapy to express my feelings of anxiety and apprehension to the group. After the session, a couple of girls who had been in out patient for several  weeks, invited me to go out with them that night. They taught me how to use the bus system to get to the places that I needed to go. They were so genuinely helpful that I no longer felt scared. I continued to reach out to these girls and they became an important part of my sober support network.
After a few days of getting acclimated to my new house and outpatient therapy, it was time to start looking for a job. I had never worked sober a day in my life. I had maintained many jobs in the past, but I would use stimulants to boost my work performance and benzodiazepines to relax and talk to others. I began to apply for any and every job I saw on the internet, and I got a phone call the very next day for an interview at a furniture design store. I had no experience with this kind of field, so those familiar feelings of anxiety and fear set in once again.
The last time I felt these emotions, talking to others about how I felt. Since relating to others who had been through the same experiences had been effective, I took what had worked in the past and applied it to this situation. We spent all of outpatient group discussing jobs in sobriety, and it helped me overcome my fear of going in for the interview.
I took the bus to my interview and tried my best to act confident and friendly without a substance in my body, and it must've worked! I ended up getting the job and started right away. I was a quick learner and tried my best because, after all, this place offered me a job without any experience or work history references.
I did six months of outpatient therapy three nights a week while working a full time job. By the last month, I felt like I didn't really need the therapy anymore. I had successfully applied the tools I learned in treatment to build a sober support network, ask for help when I needed it, and maintain a job to pay my rent on time. The transition into outpatient therapy ended up not being as scary as it had seemed to be.
Today I am a house mom at my halfway house. I am able to welcome new girls who get out of treatment and make sure they feel comfortable in my house. I get to be of service to them because I know how they are feeling and I was in their position a year ago. I can share my experience and knowledge to help them. I work a job that I love where I get to write about my experiences and spread awareness around the disease of addiction. I have beautiful relationships with other sober individuals. In the end, the transition from inpatient to outpatient therapy wasn't as scary as it had seemed to be. In fact, it was essential to maintaining my sobriety and becoming the woman I am today.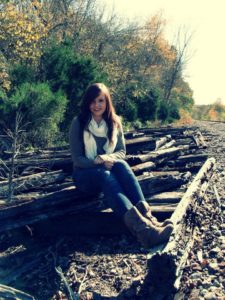 Cassidy Webb is a 24 year old avid writer from South Florida.  She works for a digital marketing company that advocates spreading awareness on the disease of addiction. Her passion in life is to help others by sharing her experience, strength, and hope.
Tags: addiction, addiction recovery, adolescents, behavioral health, children, Cleveland, Crossroads of Lake County, health, inpatient treatment, Mentor Ohio, outpatient treatment, recovery, therapy, Treatment