The impact of mental illness in day-to-day life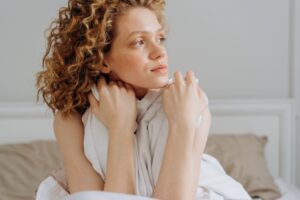 There are many ways that the negative effects of mental health or mental illness can affect us in our day-to-day lives. Even the simplest of tasks that might seem easy for some can be a challenge for those struggling with their mental health.
However, it's important to remember that you are valid, and your experiences are valid even if they are not the same as everyone else's. You deserve to still live your life and participate in the same things; you just might need to go about it a different way. 
In this article, we'll take a look at some common everyday things and situations that those suffering from mental illness may struggle with and how to better deal with and manage them.
Getting Out of Bed
Let's just start with the first thing anyone has to do in the morning to start their day — get out of bed. While throwing off the covers and rolling out of bed might seem like an act that requires little to no thinking for some, for those with mental health conditions, it can sometimes be the hardest thing they do.
In many cases, this is because whatever they have to do that day is likely a source of their stress/anxiety/depression/etc. So, it can be helpful to plan to start your day with something that makes you happy, as this will be more likely to inspire you to get up and start your day.
Maybe you wake up and immediately start reading a book, listening to a podcast, journaling, working on an art project, or even playing a game. Whatever it is that you enjoy, try planning to wake up a little earlier if you need to so you can start your day with something that makes you feel good.
Going to a Doctor's Appointment
Maybe you need to go to the dentist, or you have a check-up with your general physician — whatever the reason, medical anxiety is common in those who struggle with their mental health.
If this is something you experience, you may benefit from talking to someone about it, like a family member, a friend, or even a therapist that can offer support and guidance. Beyond that, there are some things you can do yourself to help relieve your anxiety before an appointment, such as:
Relaxation techniques, like deep breathing and meditation;

Exercising to release mood-boosting chemicals;

Journaling about your feelings;

Doing something that makes you laugh and smile.
Although different coping mechanisms may work for some, they might not work for others. So experiment before you book an appointment with your medical provider.
Household Chores
For many who struggle with mental health issues like depression, it can result in a messy house. Research has actually shown a link between depression and messy rooms due to decreased energy, feeling overwhelmed, and a lack of motivation.
So if your clothes are piling up on the floor or your dishes are stacking up in the sink, don't feel bad. These are common things that many people who struggle with their mental health have a hard time dealing with.
If this is something you're struggling with, try turning your chores into a game or something you track and reward yourself for doing. Make a list of everything you have to do and start small, tackling one thing at a time. After each thing you check off the list, give yourself a break or reward yourself with a little treat or time doing something you enjoy.
Going Out in Public
If your mental health issues are manifesting as a fear of leaving your house at all, you might be suffering from agoraphobia, which is a fear of being in public, open, or crowded spaces. Not wanting to leave your house due to a lack of interest or motivation and an actual fear of leaving your house are two different things and should not be confused.
That being said, many people who struggle with their mental health can develop other disorders, like agoraphobia. If you think this might be something you are dealing with, your best option is to speak with a mental health professional, as it is a disorder that typically requires professional treatment, such as cognitive behavioral therapy or exposure therapy.
However, practicing self-care and self-compassion can help. When you are at home, try doing things that help you calm down before you need to head out, like breathing exercises, meditation, and visualization exercises.
Going to Sleep
Just as getting out of bed in the morning can be hard when you have poor mental health, so can going bed to bed at night. It is common for people with depression, anxiety, and other mental health conditions to struggle with falling asleep at night, and even when they do fall asleep, their sleep may be restless.
Unfortunately, over time, lack of sleep can start having many other effects on your body and can make your mental illness worse. One of the primary issues is the lack of energy during the day, which can start affecting your work and your relationships, and it can lead to reduced physical activity and an increased risk of health problems.
If you struggle to fall asleep at night, try making your bedtime routine more enjoyable and something to look forward to. You can start with some self-care in the bathroom, diffuse some calming essential oils, listen to relaxing music, or read a book.
Exercising more during the day can also help you burn energy so that your body is more tired and prepared to fall asleep when you climb into bed at night. Even just some nighttime yoga right before bed can help. Your physical health and activity are connected to your mental health, so the more active you are, the more you can improve your mental health and your ability to sleep better at night.
Wrapping Up
If getting through any of the daily activities listed above is a challenge for you, just remember to go easy on yourself. Just take it one step at a time, and if you need help, don't be afraid to ask or reach out to a mental health professional.
Guest post by Luke Smith
Tags: behavioral health, crossroads health, daily mental health, mental health, mental health awareness, mental health facility, mental health treatment, mental illness, Mentor Ohio, self care