The Difference Between Healthy and Dysfunctional Relationships in the Workplace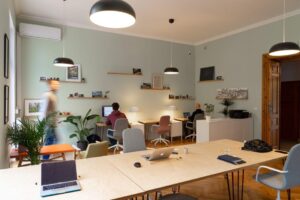 Companies spend a lot of time on overall company culture. However, it's important to remember the individual relationships within that culture. 
Dysfunctional relationships are the worst thing for any team. Healthy relationships in the workplace can be the difference between building a company culture in which employees can thrive and fostering one that suffocates productivity. Let's look at the importance of healthy work relationships below.  
The Importance of Healthy Work Relationships  
Highlighting the
importance of workplace collaboration
,

39% of employees across the U.S. and U.K. reported that "poor communication" is a top stressor for them at work. Unhealthy relationships between employees can contribute significantly to poor overall communication in the workplace. When you don't like, care for, or understand the people you work with, you can't communicate and collaborate effectively, ruining any chance of a cohesive workflow.  
Destructive work relationships can also negatively impact one's mental health. Without
social support in helping professions
,

in particular, employees experience higher levels of burnout that exacerbate mental health conditions. Dysfunctional relationships with
toxic coworkers
only make things worse.  
Healthy workplace relationships can combat the above. Communication and collaboration will persist with healthy work relationships. In addition, employees can nurture their
mental health and well-being, at work and at home
,

when they can count on positive relationships and company culture.
Tips To Keep Relationships Healthy in the Workplace  
Healthy workplace relationships are the key to excelling individually and as a team. But, how exactly can you keep your relationships healthy in the workplace? These five tips will get you started. 
Recognize Boundary-pushing or Destructive Behavior Patterns 
A critical step in fostering healthy relationships at work is recognizing boundary-pushing or destructive behavior patterns. When someone is overstepping your boundaries, it may look like: 
Emotional manipulation; 

Dumping

workplace gossip

on you; 

Never taking "no" for an answer; 

Always asking you to bend the rules; 

Making insensitive jokes and comments; 

Peer-pressuring or putting you on the spot; 

Ignoring what you've asked them not to do; 

Arguing with you about your reasons for setting boundaries. 
You should also educate yourself on common destructive behavior patterns in people because if they're destructive toward themselves, they'll likely be that way with you. Excessive use of alcohol and drugs, gambling, and impulsive behavior are good examples of destructive behaviors. If you notice any of the above in your relationship with a coworker or manager, it's probably a dysfunctional situation and should be reevaluated. 
Set Boundaries Around Socializing 
Socializing with coworkers, managers, and other staff members is critical for healthy workplace relationships. From watercooler conversations to networking events to team-building activities, you'll participate in plenty of social interactions at work that encourage good relationships. However, it's essential to
set boundaries for healthy networking
and socializing with people at work and outside of work.  
For example, when you go to a networking event, alcohol will probably be available. Drinking too much impairs your cognitive skills and can cause you to come across as unprofessional, which can adversely affect your work relationships. In this case, it's best to understand your limits and stand firm on them or refrain from drinking.  
Set boundaries around the social events you attend with coworkers, what you talk about at them, and how you'll behave. 
Be Mindful of How You Feel 
To have healthy relationships in the workplace, you need to be mindful of how you feel around certain people. Whenever you're interacting with someone you work with, pay attention to: 
What you talk about; 

How your physical body changes; 

Whether you feel heard and understood; 

Emotions that arise throughout the interaction; 
The way you feel once you leave the interaction. 
If you feel primarily uneasy in your relationships and interactions with certain people, acknowledge this feeling and shift the relationship dynamics. 
Have the Hard Conversations 
When you determine that you have a dysfunctional relationship with someone you work with and things aren't getting better, it's probably time to have a hard conversation with them. Confronting a coworker about your unhealthy relationship won't be easy if you don't like confrontation — as most people don't. But, it's necessary for the relationship to get better or cease to protect your mental health. 
Pull the person aside into a private setting to have the conversation. Start with something positive about your relationship, and then proceed with what's unhealthy about it. Allow the other person to share their perspective. Then, set boundaries for moving forward and do your best to end the conversation on a positive note. 
Involve Upper Management and Human Resources When Needed 
If a workplace relationship remains unhealthy after a few hard conversations, it may be time to involve upper management and HR. Schedule a meeting with your manager first. Give them an honest account of what your relationship is like with this particular person. Detail how it's affecting your performance and happiness at work.
Talk about mental health with a trusted manager
,

letting them know how the situation is impacting your well-being.
During this conversation, your manager can help you determine if it's best to escalate the issue to HR. Even if you have to involve HR, the end goal is to move forward and be able to enjoy your job and the people you work with. If things don't change for the better, it's okay to look for a job elsewhere with people that aren't dysfunctional and add to your productivity and well-being. 
Conclusion  
Workplace relationships are integral to your success at any company. They'll impact how you perform and feel at work, whether they're healthy or dysfunctional. The tips above will help you set the foundation for healthy workplace relationships that support you in doing and feeling your best in your role. 
Tags: behavioral health, Creating a Healthy Lifestyle in Recovery, crossroads health, health services, healthy relationships, lake county, mental health, mental health treatment, Mentor Ohio, relationships, self care, workplace relationships