Meet Crossroads Health's New CEO, Shayna Jackson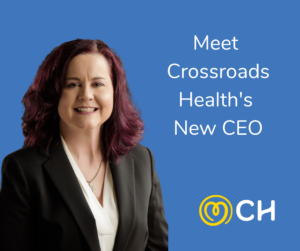 Shayna Jackson, Chief Clinical Officer, Adult Services of Crossroads Health is Promoted to President and CEO. 
Mentor, OH – Crossroads Health announces the executive leadership transition of the non-profit organization serving Northeast Ohio's behavioral and integrated health, and substance use recovery needs. To mark the occasion, the public is invited to attend a special "Q & A" with Shayna Jackson at Crossroads Health's Integrated Health Care Building located at 9220 Mentor Avenue in Mentor, OH, on January 13, 4:00pm.
President and CEO Mike Matoney announced his plans to semi-retire at the end of 2022. Matoney has led Crossroads Health since March 2011. Shayna Jackson, who is currently the Chief Clinical Officer, Adult Services at Crossroads Health has been promoted by the Board of Directors to President and CEO of the organization upon Matoney's semi-retirement.
"Mike informed the Board that he planned to retire at the end of 2022, providing for a nearly 2-year period of time to strategically plan for the transition," said Dianne Vogt, Chair of Crossroads Health's Board of Directors. "We are fortunate that Shayna Jackson has agreed to transition to the role. Shayna's experience, proven leadership and commitment to Crossroads Health and her past experience as an executive director of a residential center makes her the perfect person to lead our organization."
Under Matoney's leadership, Crossroads Health and New Directions formed a strategic partnership in March 2011. In 2019, he provided the leadership for a major merger between Crossroads Lake County Adolescent Counseling Service and Beacon Health to form Crossroads Health, as well as other strategic growth initiatives. Most recently, Crossroads Health received a $4 million Certified Community Behavioral Health Clinics (CCBHC) Expansion Grant. Crossroads Health now offers integrated physical health care and is accepting clients for primary care services at its 9220 Mentor Avenue location.  Matoney states, "I am grateful to have served our clients and the community for more than 40 years, mainly at New Directions and Crossroads Health. With an effective Board, a strong leadership team and Shayna Jackson, I see very innovative and trauma-informed services continuing and expanding at both organizations."
The Senior Leadership Team of Crossroads Health and New Directions have issued the statement: "We are grateful for Mike's exceptional leadership. We will miss him! Under any other circumstances, we would have trepidation about a leadership transition, but we could not have found a better successor than Shayna. The future for communities served by Crossroads Health and New Directions is bright."
Shayna Jackson has served Crossroads Health (and formerly Beacon Health) since 2015 and has helped lead key initiatives as the Chief Clinical Officer, Adult Services, including the recent $4 million CCBHC Expansion Grant and initiative. Shayna states, "Crossroads Health transforms lives each and every day and I am honored to be part of this important work by serving as the next President and CEO. It will be a privilege to partner with a dedicated Board of Directors, senior leadership team, and amazing staff to lead the organization in continuing the important work that we do. I started this work to make the world a bit better and I can think of no better way to do that than by being at Crossroads Health."
For more information, contact: James Wyman, Chief Development Officer at 216-360-4445.
About Crossroads Health
Crossroads Health is a trauma-informed, evidence- and community-based non-profit behavioral and primary health care center dedicated to providing a comprehensive continuum of services to children, adolescents, young people, adults and seniors throughout all stages of life. Crossroads Health offers specialized services and programs including early childhood services, day treatment, school and community-based services, therapeutic foster care, intensive services, substance use disorder program, psychiatry, dual diagnosis program, supportive employment services, forensic services, prevention, outpatient counseling, medication management, case management, hotline and crisis intervention. Crossroads Health provides direct service to clients from infancy through adulthood—and their families—from two locations in Mentor, in addition to locations in Willoughby, Painesville, and the Lake County Adult and Juvenile Detention Facilities. Professional and licensed staff including social workers, counselors, educators, prescribers and nurses offer individual treatment plans, education, and outreach programs in the schools as well as in the community. Crossroads Health's philosophy emphasizes an integrated approach to physical and behavioral health while getting to the root cause of behavioral health problems to ensure a more positive and productive life. Crossroads Health is client-centered, values-driven, and mission-based for the betterment of clients and community.
Tags: behavioral health, ceo, crossroads health, executive director, health services, lake count ohio, lake county, leadership transition, mental health facility, mental health treatment, Mentor Ohio, new ceo, ohio ceo, press release, shayna jackson